We are very proud to offer the latest Celeste Thirtyseven, hull #4, built as a Show Boat and equipped with all conceivable systems and equipment.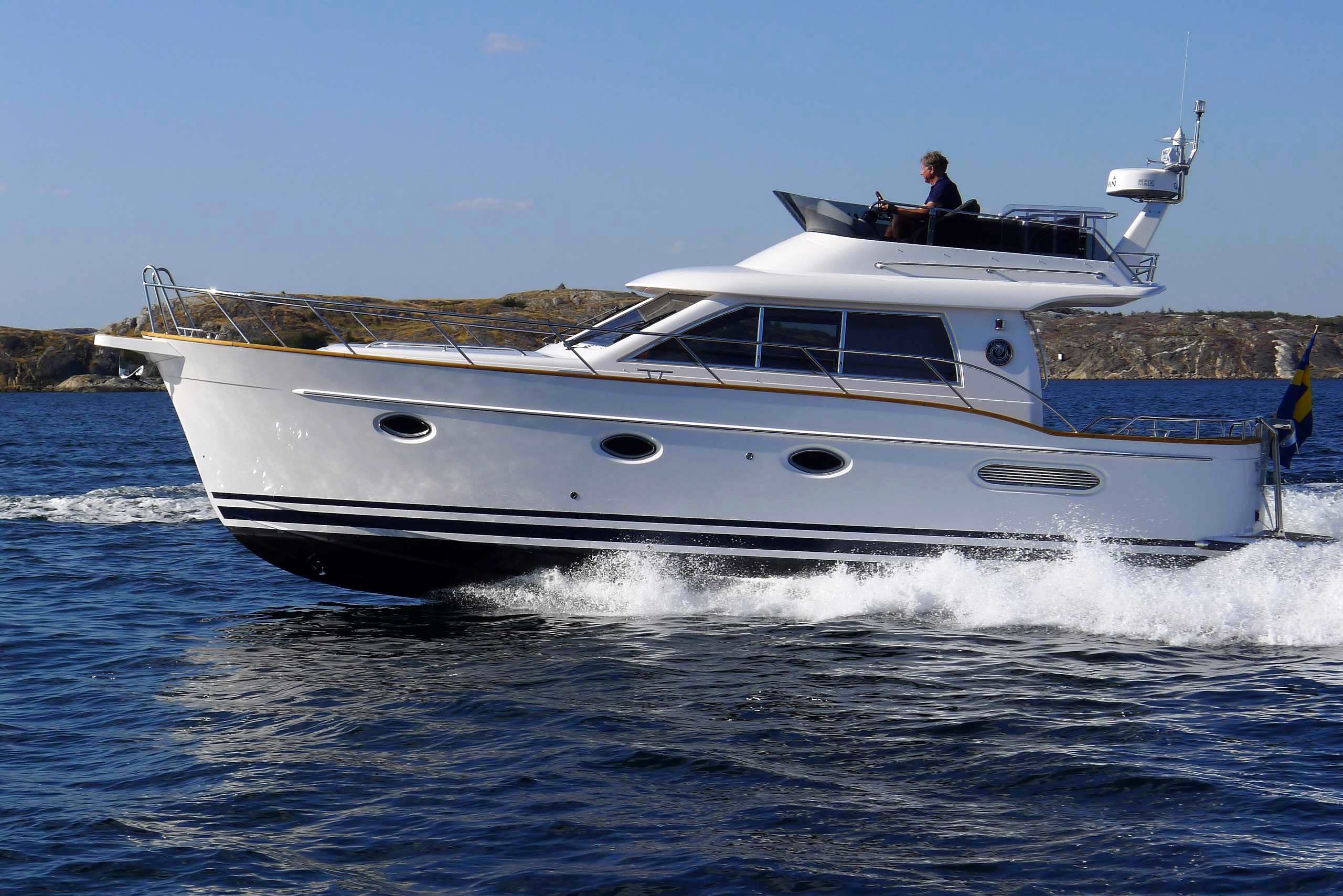 THE CELESTE 37, WHAT IS SHE?
The Celeste 37 is a manageable and rather unassuming gem of a boat, handcrafted to unbelievable standards for a powerboat of this size. The yearly production at Fribergs Båtbyggeri is one or two boats only, and all the thousands of hours have resulted in the most wholesome yacht of her kind. Construction, caprentry, installations, finish – it is all 10 on a scale 1 to 10.
That is one thing.
The other thing is, she is a very modern, finely tuned powerboat, designed to perform well not only at high planing speeds, but what is more amazing is how well she goes at any speed. She goes smoothly and silently through a small chop. She has a finer entry than most other boats of her kind and an easy motion, and her transition between hull speeds and planing speeds is unusually smooth. She is a remarkably manageable and friendly kind of boat.
WHAT IS SPECIAL ABOUT #4?
This particular boat is equipped with twin Volvo Penta D6 engines with stern drives, her Duoprops deliver an impressive sense of silent, controlled power and a top speed of 38 knots. However, she is not really about performance, but rather two other things:

Comfort, and
Handling.
Being built as a show boat, Lars-Åke Friberg, working closely with Volvo Penta, wanted to try out the modern systems of control and at the same time test the Celeste 37 to her full potential.
This hull #4 was equipped with Volvo Penta's EVC system, Electronic Vessel Control, whereby the person driving can manouver the boat in close quarters or side wind via a joystick control. Taking her sideways or making her spin on the spot is child's play.
There are joysticks both on the flybridgde and the inside steering position, and just to be certain, there is even one on the aft deck.
In additition, this particular boat benefits from a Humphree active stabilisation of trim and pitch, evening out the ride. This system works instantaneously to counteract waves or sidewinds, at any speed, or any sea condition.
SPECIFICATIONS
Length Overall: 11.54 m
Width: 3.60 m
Weight: 8000 kg
Draft: 0,95 m
Fuel: 800 L stainless steel tanks.
Water: 450 L stainless steel.
ENGINES
Volvo Penta D6-330/DP, 2 x 330 HP
Engine hours: 50
EQUIPMENT
Volvo Penta EVF with Joystick Control
Joysticks on flybridge, inside and at the aft deck
Side Power bow thruster
Humphree active interceptors
Complete Garmin instrumentation
Garmin radar
Twin Garmin displays + one on flybridge
Lofrans windlass with stainless steel Bruce anchor
Stainless steel stern anchor with windlass
Interior comfort: Heating, separate shower stall, hot water, shower on stern platform, complete galley, radio, antennas
CURRENT PRICE
3,850.000 SEK (Swedish Krona) + local tax or VAT
Sold as new, with full warranty
CONTACT
Gabriel Heyman, at +46 707 790 003
All details given in good faith and assumed correct.