The Concept
Boat builder Lars-Åke Friberg of Fribergs Båtbyggeri had a clear idea what he wanted in his new 37' power yacht. The yacht was intended as a rugged, go-anywhere, do-anything power boat sleeping a couple, or up to four people.
She had to be easily handled, big enough to be comfortable for two persons spending a few days or even weeks on board, with room for a couple of friends or children, but not too big for coastal cruising in sheltered waters in for example Scandinavia or the U.S East Coast.
Lars-Åke Friberg was not only hoping for a very fast boat in protected waters, with a smooth ride even in a choppy sea, but also a much bigger range of usable speeds than usual.
If possible, she should be able to go from displacement speeds to planing without fuss.
And he requested the design to be subtly refined, with a rounded stern and an inviting deck saloon.
Being sailors ourselves, we wanted to incorporate details that would make us feel at home, like her protected side decks and the downstairs galley, open to the rest of the interior.
A Hull Shape for the Future
In order to offer a greater usable range of speeds, we wanted to give the new hull a sharper entry than usual. Because of this, and the slightly unusual shape of her stern, we decided to have the design tested at SSPA, the tank test facility in Göteborg, Sweden.
These tests were most encouraging and predicted an easily driven hull, also at intermediate speeds. The tests also proved valuable because, following the results, we were able to tweak the design subtly in order to produce lower trim angles at intermediate speeds.
The entire design process took almost a year, scrutinizing every aspect, every detail.
So how did she turn out?
Going onboard, the Celeste Thirtyseven is an inviting yacht. The aft deck flows into the main cabin. The galley is very yachty, the bedrooms lovely, the steering position is perfect. And, in fine weather the flybridge is the natural place to be. But, more than anything, I believe this is the most well-built power yachts you will find in its size, from any builder, anywhere.
Under Power
The Celeste Thirtyseven is capable of whooping speeds under both types of drives, twin Volvo Penta IPS (used in the first boat) or twin Volvo Penta stern drives (as used in the second).
She has an effortless transition from displacement speed to planing and although her top speed is close to 40 knots, she is equally content cruising along at 15. Her range of speeds translates into an unusually good range of suitable engines and she could just as well be equipped with a single stern drive engine.
We are obviously very proud of this design and flattered by how she has materialized.
For more information, please refer to the Friberg Båtbyggeri website.
And please meet the owners of Friberg's Boat Yard, Lasse and Britt Friberg: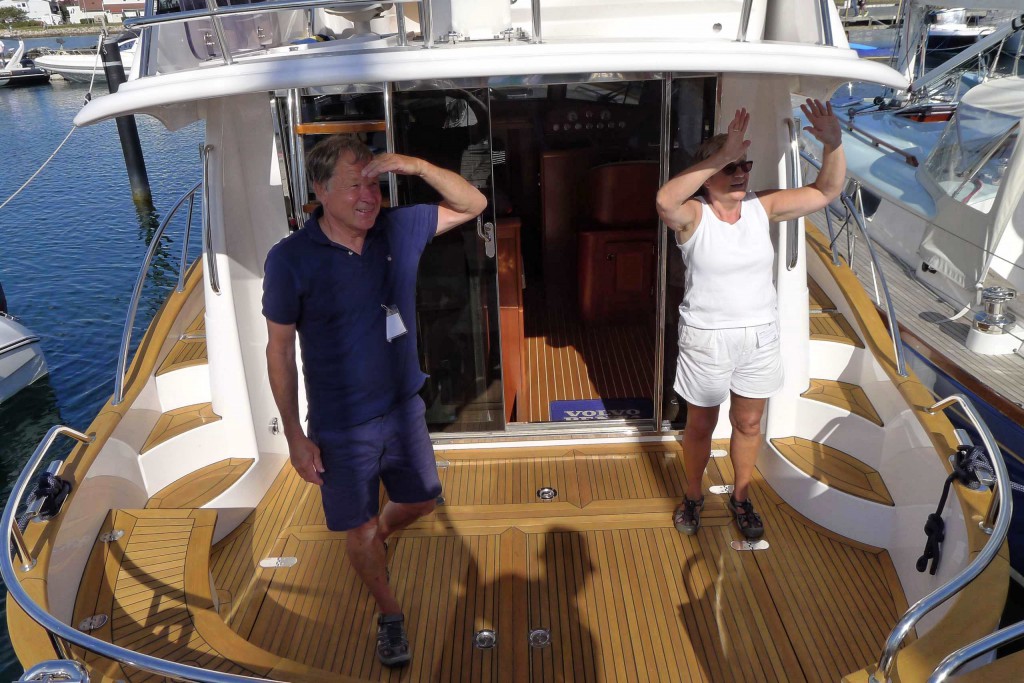 Specifications:
Length Overall: 11.54 m
Width: 3.60 m
Weight: 7500 kg
Draft: 0,95 m
Fuel: 800 L.
Water: 350 L.
Engine: 1 x 300 to 2 x 300 HP, Volvo Penta IPS or stern drive or Yanmar stern drive
All details and specifications subject to change without notice