Design #96   ©Heyman Yachts 2020, final version
Note: This page will be updated at irregular intervals, and without notice.
Like today, 16 October, a name change: The name is now Heyman 41′ PPH. Work is in full progress, build start expected shortly. Do not hesitate to contact us for an update.
ANOTHER STANDARD WHITE BOAT?
This new 41' yacht is the first of its kind. There are other yachts which may be slightly reminiscent, at least in theory. But in basic concept, in function, and in character there is no other like her.
Still, one of the most important goals of the design is to make a well-mannered yacht, with normal proportions, using well-established technology.
The result is the PPH – Pocket Pilot House.
DIFFERENT, HOW?
This yacht offers a level of comfort matched by few, if any, boats under 55 ft. Living on board the PPH will be easy and relaxed like no other sailboat. There are three basic differences:
The main living space on board, from stern platform through cockpit, main cabin, into galley and office or lower saloon, flow together into one huge space.
Measured somewhat conservatively, this entire area is 22 square metres.
Add to this the two staterooms and a big bathroom and the overall feeling is that of a beach house – just as much as a yacht.
For a 41' cruising yacht, the PPH has more elbow room than any potential competitor. This is because she has fewer cabins, and a different layout altogether. Every part feels generous. You will never feel confined "down below", between bulkheads, or under deck.
Getting on board from a tender boat or floating dock is made easy, using a few innovations.
Arriving in your dinghy, you can step onboard the folded transom, walk through the cockpit and into the galley with one grocery bag in each hand.
There are no ladders or deep staircases anywhere.
NEW IMAGES
We are working on the final stages of the design and engineering and could not resist showing the latest images:
SO, HOW BIG IS SHE?
The PPH is conceived for two people living on board in comfort, as a week-end home, a studio on the waterfront or an unassuming summer house.
In addition, there is space also for friends staying overnight or a few weeks, for children or grandchildren on vacation.
In sports car terms, she is a 2 + 2: A boat with good room for kids or guests – without any real compromise. But, first of all, built for two people, with a level of comfort you will not find in any other yacht of her size.
UNDER WAY
The cockpit of the PPH is more generous and offers a better protection against weather and wind than most. Under sail, it resembles other modern sailboats of 40-50 ft. and upwards.

The forward part of the cockpit is meant for rest, reading or just enjoying the ride. The seats forward are 2 m long, each with a drop-leaf table, one each side. The tables offer a good foot brace and something to hold on to under way.
Steering, sail handling, navigating and manoeuvring will all be managed from the equally generous area behind the twin wheels. The layout is perfect for single handling the yacht, with easy access to electric winches and controls.
There is good visibility forward on each side of the pilot house, above the pilot house and also to some extent through the glass bulkhead and pilot house windows. In addition, there are two good-sized pulpit seats aft, lovely for watching dolphins in fair weather.
IN PORT
The PPH is lovely for living on board, not only inside, but also outdoors. It is not until you are at anchor, on a mooring or by the dock that the cockpit shows its magic.
With the bimini in place, the cockpit serves as something like a front porch.
For the morning swim or kids playing, fold out the stern platform and the pool ladder. The platform extends the cockpit floor, at the same level, and the area is huge by any account, at 11 square metres.

Even with one of the tables in use, the vast floor space offers room for a few folding deck chairs. It is all up to you if you want to sit in the sun, or out of the wind.
Fold out a couple of sun loungers and rest after a swim.
Enjoy a coffee in the shadow, or gather around the table in the evening with friends.

Or fold out both tables and make room for the entire family, including aunts and cousins.
NIGHT AND DAY
We already touched at the comfort of the cockpit and how it can change character in port, with chairs and tables. But there is more.
The seats can fold out, forming wide lounge beds, one each side. This will be a wonderful place to rest, on the leeward side under sail, or just make a snug place in the forward corner with a good book. In tropical climates, you can sleep outside on two good beds, 90 cm wide, under the bimini.

There is a sun bed on the foredeck – a wonderful spot for reading, talking or thinking about how far it is to the horizon.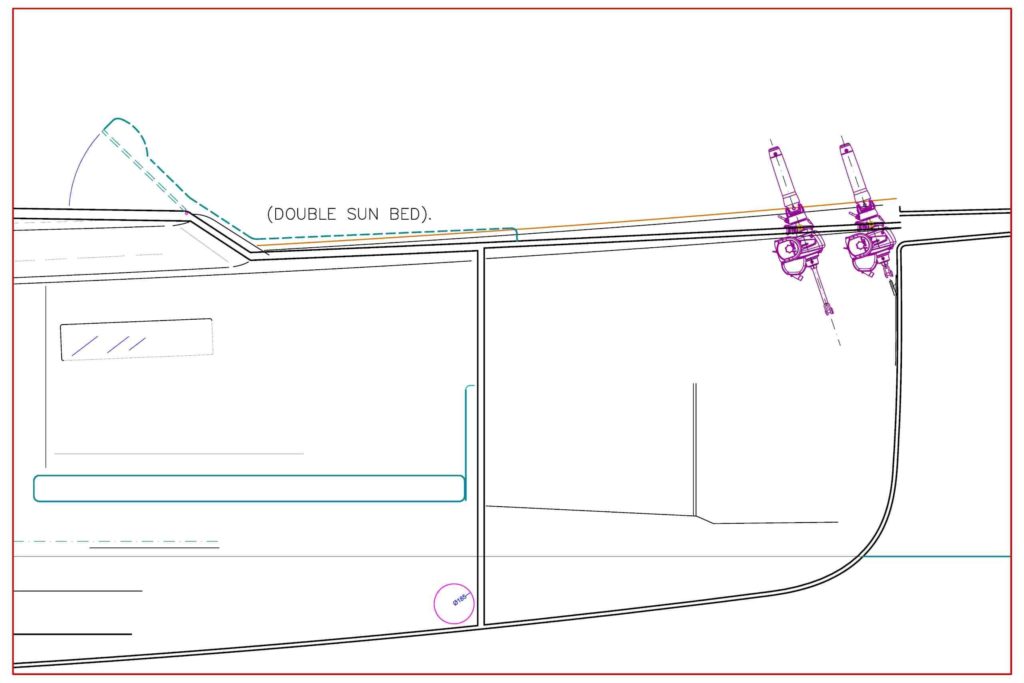 Inside, you will find a few good sea berths, one for the off-watch in the port upstairs seating, two more in the guest cabin and yet another in the lower salon, if that interior layout is preferred.
GOING INSIDE
The outside and inside of the PPH are separated by a glass bulkhead. Inside the glass is the main cabin with all-round view. You will be at the same level, able to see out from the inside and see in from the cockpit.
The interior of the PPH is conceived with the same idea in mind as the cockpit – sometimes you are sailing, at other times at anchor or by the dock. The layout needs to be equally perfect for both.
Opposite the sofa, on the starboard side is a large galley with room for two to cook together and a full view of the outside, in all directions.
Two steps down, in the forward corner of the same huge room, you will find the lower saloon. This is a lovely place to withdraw for some privacy, with a sofa, another small table, room for bookshelves, a TV and entertainment. The sofa serves double duty as an extra sea berth or place for an afternoon nap.
There are other layout options for the yacht – an office / nav station upstairs, with a seat and good visibility forward for long passages. In this case the galley is forward, with  2, 30 metres standing headroom, surrounded by big windows and still open to the rest of the pilot house.
The owner's stateroom is forward. It can again be laid out according to taste, with a centreline double bed or two very generous single berths. You will find all the amenities you would expect at home – bedside tables, a book case, a bureau, clothes drawers and good hanging lockers.
The double bed in the PPH is 1,60  metres wide all the way forward, fitted with a fabric covered headpiece. This is absolutely unique in a yacht of this size but once there, it will be perceived as the most natural thing. We believe very few people would go to sleep in their double bed at home with their feet against the wall – so why in a boat?
Half-sitting in bed, you will be able to look out the hull windows and, if the door is open, you can see all the way through the boat. When the platform is down, you can even see the ducks swimming (ducks not included).
With the galley forward it may be a nice option to have a small sofa in the forward cabin; a place to withdraw with a book or just to put your shoes on.
The forward stateroom has a private access to the bathroom, with separate shower stall, room for a washing machine and ample locker space.
The guest room is opposite the lower galley or lower saloon. Not as comfortable as the forward stateroom but with an equally wide bed and still bright and airy.
ON DECK, AND MOVING ABOUT
The PPH is easy to access from all sides:
From the stern, via the stern platform. Or, when tied up stern to the quay, via a short passerelle, Mediterranean style.
From the bow, via an integrated bow ladder when tied up to a rock or a dock, Scandinavian style.
From starboard and port sides, where we introduce a novelty; a blind hull "window" which in fact is not a window but a footstep which folds out of the hull side – like this:
Under the cockpit are two huge stowage spaces port and starboard. There will be room for deck chairs and cushions, a stowed bimini or other cockpit canvas, diving gear, bicycles and all sorts of paraphernalia. The engine room is under a separate floor hatch.
At the bow, forward of the collision bulkhead, is another equally huge deck stowage which can be entered via a ladder. This space contains the chain locker and room for a downwind sail. Docking lines and fenders are on hooks, accessible from deck.
A pair of davits extend telescopically from the transom, holding the dinghy at just the right distance from the lowered boarding platform – convenient for access. During a passage, there is room for the folded dinghy in one of the cockpit stow rooms.
HIGH AND LOW LATITUDES
Given the basic idea behind the PPH, she is the perfect yacht for living on board also during early or late season.
The pilot house side and forward windows are double glazed to protect both against heat and cold, and to prevent condensation.
In northern climates, a heating system will keep the yacht interior warm and dry. Foam-cored hull and deck panels are used throughout and will ensure a perfect insulation also against heat. AC is offered as an option.
HULL & KEEL
The PPH's design is based on an efficient cruising sailboat hull. Its waterline is almost the full hull length.
The hull shape relies on our recent research at Chalmers University of Technology where 3 different sailboat 41′ hulls were tested, using both CFD and tank tests. This study is unique because focus was on the added resistance in waves, where a sailboat's performance depends to a great extent on the shape of the bow. The results in the study lead to a few conclusions regarding hull shape in general, and the bow in particular. The hull of the PPH has been designed based on this new knowledge.
In addition, the PPH is course stable, with a controlled and civilised steering at all times.
In order to be able to explore shallow waters and or to drop the anchor in the most protected coves, the keel is only 1, 44 m deep. It is built as a long fin keel with efficient foil sections and, at the bottom, a very distinctive bulb shape with a very low centre of gravity.
In addition, an optional centreboard is offered. It is hidden entirely inside the bulb and is easily controlled by a winch or via a button but – this is important – it is not a lifting keel, it weighs relatively little and its function is only to reduce leeway. With board down, the draft increases to 3, 02 m. Like the keel itself, the centreboard is of course carefully foil shaped.
UNDER SAIL OR ENGINE
Under her 75 hp engine, the PPH will run very quietly at up to 8 knots cruising speed, with much more power in reserve. In port, her handling will benefit from using the bow thruster. A stern thruster is optional.
Alternatively, the yacht can be fitted with an electric drive, with batteries charged by solar power or shore power and backed up by a silent genset to increase the hours or range.
Getting under sail is a simple matter of unfurling the sails by means of the electrical powered furling gear for both mainsail and jib. The jib is self-tacking so no sheets to attend to when going to windward. All lines are lead back to the cockpit coamings.
The beauty of this configuration is that both sails can simply be adjusted to changing wind conditions and therefore, in practice, often turns out to be very efficient.
A code 0 is offered but such a sail is often too much to handle for a short-handed crew. Instead, this sail is permanently mounted on an outer headstay, and just like the self-tacker it is furled by an under-deck electric furler. This sail will be so different from an ordinary Code 0 in practicality and use that we renamed it, instead using the classic term 'reacher'. 
Regardless of which sail plan is opted for, the addition of a gennaker, hoisted from the bow sprit, will ensure good speed in the lightest of winds.
A full set of electric furling gear and electric winches are part of the extended specifications, and all handling is laid out for single-handed operation.
The PPH will be fitted with a folding propeller for sailing efficiency. Sailing speed will generally be more than 7 knots to windward and she will average a knot higher than that on a reach, with top speeds at more than 8 ½ knots. Sailing alongside other cruising yachts she will hold her own.
EXTERIOR DESIGN
There is good and bad design, both in 'classic' yachts and in 'modern' yachts.
Still, it is not about classic versus modern. I believe it is about finding an attitude which goes hand in hand with what the yacht is supposed to do. And, at best, with an honest and gentle personality.
So what about the design of the PPH? The purpose of her design is a yacht which knows her way and takes care of you, rather than the other way around. I hope she conveys that feeling, and maybe with some sort of purposeful, determined 'workboat' character – you be the judge!
DIMENSIONS:
Overall length                                          13,52 m (including bowsprit)
Length on deck                                        12,66 m  (41 ½ ft.)
Waterline length                                      11,83 m
Beam                                                          4, 24 m
Draft                                                           1, 44 m
Draft, centreboard down                        3, 02 m
Displacement                                           11400 kgs
Sail Area                                                     89   sq.m.
ENGINE:
Electric Sail Drive 21 kW, solar panels + genset,
– or –
Volvo Penta D2-75 sail drive
SPECIFICATIONS AND PRICE
(to be updated by October 23)
The PPH has a full standard specification, here: Heyman 41′ PPH Basic Specifications 200609
In addition, there are of course numerous options, like the twin-headstay rig, a centerboard, electric propulsion, AC or davits, and much more
We have listed a sort of 'recommended, extended set of specifications', intended to make the PPH as practical and easy to handle as you could ever wish for. This can be found here Heyman 41′ PPH Extended Specifications 200611
For discussions about equipment and price, please write or call!
QUESTIONS, CONTACT
We will be happy to answer any (or most) questions, so please ask!
Sweden: Anders Hemgren, anders@hemgren.se, +46 705 113 057
United States : Joe Brase, joebrase@gmail.com, +1 (803) 493-0913
Germany: Joe Brase, joebrase@gmail.com, +1 (803) 493-0913
Gabriel Heyman, info@heymanyachts.com, +46 707 790 003
Or just click the envelope below.
(c) Heyman Yachts, October 2020